Planning your table centrepieces for your wedding can be a tricky task – where do you even start?! There are lots of options based on your personal style and budget.  Here, we have collated a few stunning ideas chosen by some of our previous brides.
Remember that we can create anything you want, so use these as inspiration and do get in touch for a FREE consultation to discuss your own wedding! You will also find lots of ideas for your wedding flowers on our Pinterest boards and we are happy to discuss anything you have pinned to your own wedding boards.
Add Dramatic Height to your Tables with Flower Arrangements in Tall Glass Vases
A tall glass vase, such as the fluted vases, sundae vases, martini vases or conical vases that we have available to hire is a great choice to keep the conversation flowing across the table. The beautiful floral design will add dramatic height, while the thin, transparent vase allows your guests to still see each other.
This design is for a bride with a bigger budget. Tall vases look stunning in venues with high ceilings, really making an impact. If you want your guests to enjoy the flowers at table level as well, you can opt for small bottles of flowers or a ring of flowers around the base. This really pulls the colour down to the bottom of the vase.
Above: Dramatic red flowers with bright green foliage contrast beautifully with a simple décor, while muted pastels and grey/green eucalyptus will complement it. Both are placed on a round mirror tile.
Hurricane Lamps and Lanterns: A Stunning Way to Reduce your Wedding Flower Budget!
For a bride who hasn't got a fortune to spend! At Springfield Florist we offer a number of hurricane lamps and lanterns for hire. Even on their own, they create a lovely romantic feel to a wedding, but can be complemented with flowers.
You could place little bottles or jars of flowers around the base (above), surround them with a flower ring (below) or place flowers inside.
Create a Rustic Feel with Jars of Flowers Displayed on Log Slices
Probably our most popular design, bottles, jars or cans of flowers look great displayed on log slices. It is cost effective and the flowers can easily be given away to the guests at the end of the evening!

Flowers Displayed in Cylindrical Vases: A Versatile Choice for your Centrepieces
Our Cylinder vases are available to hire in varying heights, which makes for a spectacular wedding centrepiece. There are many options for your flowers: keep it simple with submerged single stems and floating candles, place hand-tied bouquets inside or hide the stems by placing an arrangement on top.
Keep it Stylish with Mirrored Cube Vases
A great choice for an understated, elegant theme, mirrored vases can be used alone or in an arrangement of varying heights. Team them with square mirrors tiles and tealights to add extra sparkle to your evening wedding reception.
Opt for a Fish Bowl Vase Flower Arrangement
Also good for someone on a budget, we can create hand-tied bouquets to place inside fish bowl shaped vases. Alternatively, you could opt for a flower arrangement placed on top of the vase or even something simple inside the vase itself. They look great teamed with a round mirror tile and tealights or scattered crystals.

Crystal Cake Stands
Our brand new crystal cake stands look so pretty with vintage arrangements on!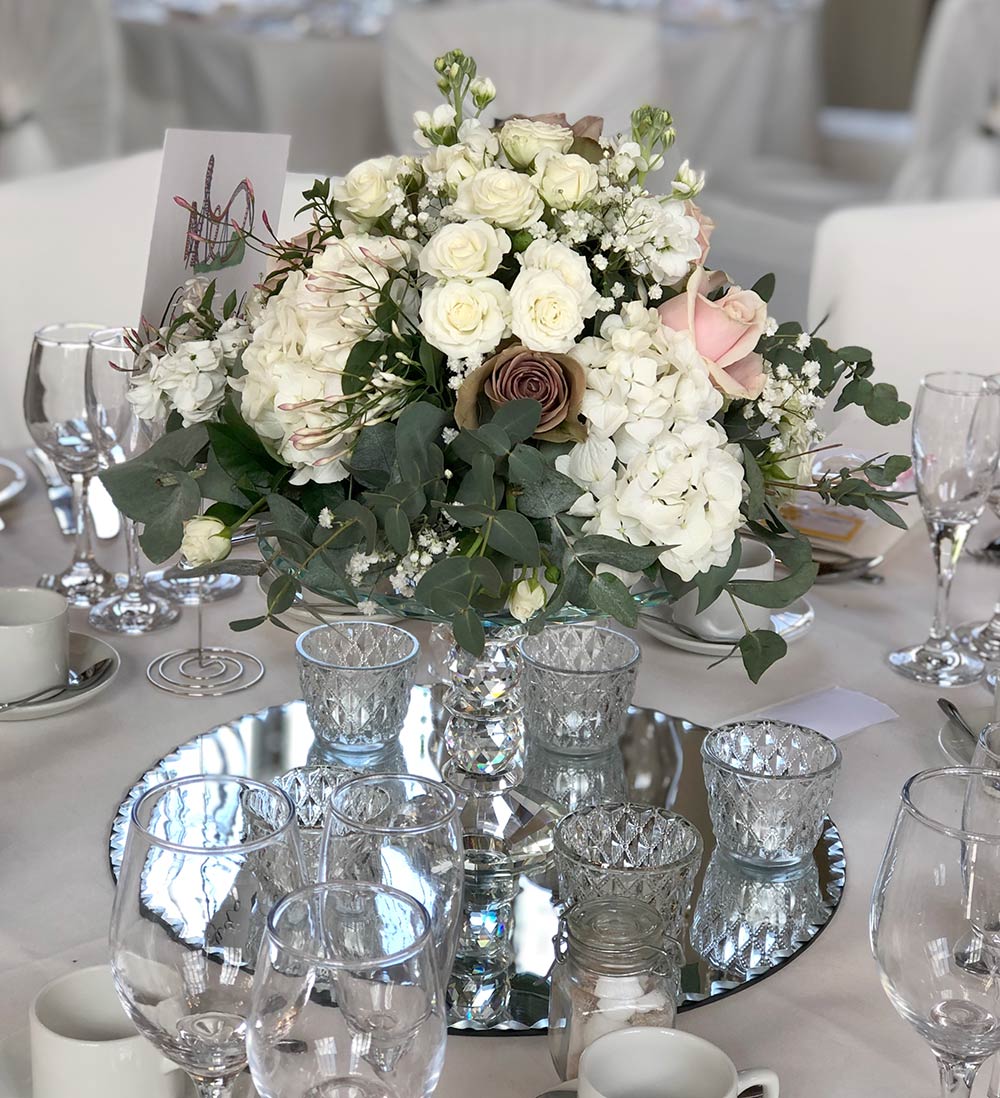 Book your Free Wedding Consultation Today
Give us a call today on 01245 264 566 or drop us an email to book your free, no-obligation consultation with Jemma.  Whether you know exactly what you want for your wedding table centrepieces or are in need of a helping hand, Jemma the experience to make your wedding dreams a reality!